Current work in the lab is focused on:
1. Elucidating the impact of DNA damage on immunometabolism: Besides genome maintenance pathways, multicellular organisms also employ adaptive and innate immune mechanisms to guard themselves against bacteria or viruses. Recent evidence points to reciprocal interactions between DNA repair, DNA damage responses and aspects of immunity; both self-maintenance and defense responses share a battery of common players and signaling pathways aimed at safeguarding our bodily functions over time. Using the mouse, we are investigating the beneficial and unrewarding outcomes of DNA damage-driven inflammation in the context of tissue-specific pathology, metabolism and disease progression.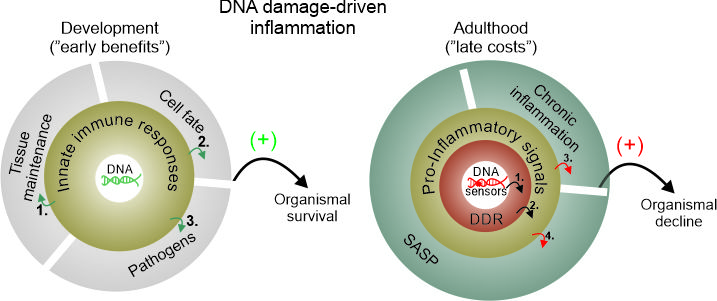 2. Dissect the functional role of Nucleotide Excision Repair in mammalian development: How DNA damage triggers the onset of tissue-specific pathology in NER patients and accompanying mouse models remains an intriguing question arguing for tissue-specific responses against deleterious threats. Using an in vivo biotinylation tagging approach in mice and a series of cell type-specific knockout animal models, we try to understand how distinct DNA repair mechanisms are functionally linked to developmental gene expression programs in mammals and how chromatin organizers respond to DNA damage during development or with disease onset.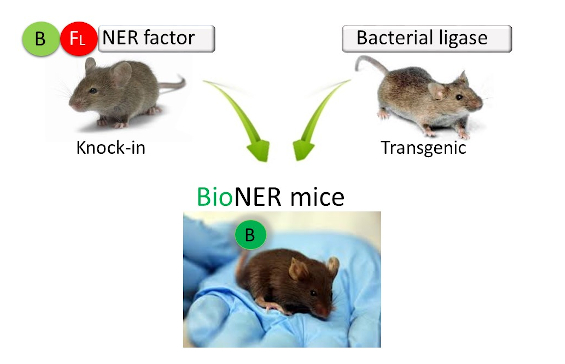 3. Delineating the functional links between Nucleotide Excision Repair and transcription: Recent work has revealed that proteins in nucleotide excision repair (NER) play distinct roles, including some that go well beyond DNA repair (3). NER factors are components of protein complexes known to be involved in nucleosome remodeling and histone ubiquitination (1), as well as transcriptional activation (2) of genes involved in nuclear receptor signaling, stem cell reprogramming, and postnatal mammalian growth. Using a series of functional genomics, mammalian genetics and biochemical approaches, we are investigating these new mechanisms in relation to the developmental abnormalities and premature disease onset observed in NER syndromes.